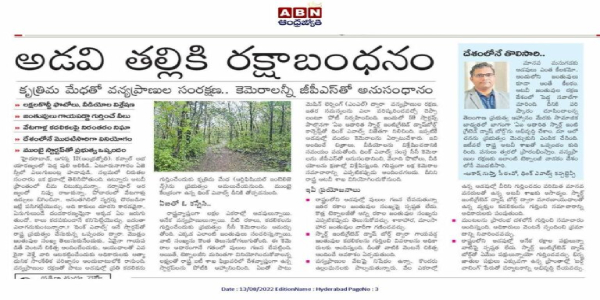 Raksha bhandan to mother forest
Wild animals' protection with artificial intelligence
All cameras are connected to the GPS
Analysis of lakhs of photos and videos
Animals can be identified even if they are injured
Constant surveillance of poachers' movement
First time used in India.
Government's agreement with a Mumbai based start up
First time in the country
Forests are as important to human survival as are the animals in them. Conservation of forest animals has become a major challenge in the country the protection of forest animals has become a great challenge. As per the invitation of the Telangana Government to show a solution to this, we have developed an AI-based smart integrated dash board as a part of social responsibility. The government appreciated our idea and selected us. Recently an agreement was signed with the State Forest Department. We will start the work soon. This kind of technology is used for the protection of wild animals for the first time in our country.
Aakash Gupta CEO Think Evolve consultancy
Tigers movement in Kawal tiger reserve, Rush of bears in Eturnagaram agency, movement of cheetahs in Nallamala forest will get noticed in a moment. Even an ant make a small sound In Utnoor forest area, any fire in Narsapur forest, if hunters set traps in Pocharam, smugglers infiltrated in Ananthagiri forest that can be immediately noticed. Whether it is a dense forest or inhabited by elephants, one can get the idea of what is happening there.
How all this can happen?
Think Evolve startup's tie up with Telangana State Government to set up the state-of-the-art technology will be available to the authorities to track the total number of animals, to immediately report any injuries and to track down those persons who roam in the forest area with weapons.
Along with wildlife conservation, the government will implement artificial intelligence to detect every movement in the forests. Think evolve will provide support for this project.
Keeping an eye on forests
Across the Telangana there are lakhs of acres of forests. There are many wild animals in these forests. The government will install CC cameras to detect these animals survival and movement…Government will be able to know which types of animals are roaming in which area.  With the help of these cameras input tigers population counting was done in the past. However, with the aim of making more use of the technology, in February the Telangana state IT department had invited startups from all over the country to participate in this process.
A competition was organized regarding how to solve wildlife protection and other problems through AI along with machine learning (ML) in which 59 startups participated. Tejo Think Evolve  which came with the idea of AI based smart integrated dash board concept became the winner.
Hundreds of cameras have already been installed in the forests. It takes time to analyze the photos and videos that they provide.. Think Evolve organization integrates CC cameras with GPS and analyzes these photos and videos within seconds. It will provide information from up to one lakh cameras that installed in forest area across the Telangana state. This information will be used by the state forest department.
These are the benefits.
Tiger population numbers are being counted in the state forests but there is no record of the number of other types of animals. With this new technology, the number of animals can be calculated on a regular basis. With the help of this technology the number of herbivores and carnivores can be counted.
Smart integrated dash board detects the movement of injured animals and provides the details to the authorities so that they can be treated immediately
There is a ban on hunting of wild animals. Still some people are committing violations. With the limited human resources at its disposal, it is impossible for the forest department to identify these poachers.  A smart integrated dash board detects the movement of people with deadly weapons and dispatches officers to the locations.
Fires are detected at an early stage and information is provided so that the authorities can respond immediately and control the fire.
Although there are many types of birds in the forests of the state, there is no creativity on them. With this dash board, you can identify what birds are there and develop tourism in the name of bird watching in areas where there are many birds of different species.